KUROYU
Akita, Nyuto-Onsen
It is an inn located in the depths most in Nyuto hot-spring villages. There is the tradition from the Edo era here. There is the source beside an inn and can watch the spout of the hot spring. It is comfortable to massage with hot water.
We open every year for from the end of April to the end of November.
MOVIE - AKITA'S ONSEN PARADISE
About a hot spring
Bathing charges
600 yen
Nature
A simple hydrogen sulfide spring
An acid sulfur spring
Effect
High blood pressure, arteriosclerosis, erasion circulatory disease, diabetes et al.
Day's bathing
9:00 - 16:00
Winter season suspension of business
About lodging
Attention: Winter season suspension of business
Lodging charges
12,030 yen
Consumption tax / bathing fee is included.
Capacity
50 people
Japanese-style room : 22
The cooking food for oneself is possible, too.
KUROYU's Story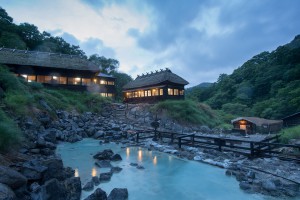 One of the signature features of this onsen, whose name translates as "black onsen," is its black hard-boiled eggs.
Fresh eggs are placed in nets and submerged in the onsen's hot spring source to boil.
After the eggs sit in the sulfurous onsen water, the hard-boiled eggs turn black on the outside from the chemical reactions.
The egg on the inside remains white, and the hard-boiled eggs are said to not spoil for a long time because of the minerals that help kill bacteria.
This directly translates into what Kuroyu believes the onsen can do to help the body.
Read More
Location
Tazawako obonai aza kuroyuzawa 2-1, Senboku-City, Akita, Japan.