MIYAKOWASURE
Akita, Natsuse-Onsen
There are no other houses or hotels in the vicinity.The silence lets you hear even the sound of the stream, the life of the woods, the birds singing and the sound of the snow falling.Surrounded by pristine nature, you can enjoy the onsen welling up from underground and Tohoku cuisine made of the finest ingredients…You can rejuvenate and replenish yourself. Please come and truly appreciate the pleasure of Miyakowasure.
MOVIE - AKITA'S ONSEN PARADISE
About a hot spring
Bathing charges
500 yen
Nature
The alkarlescent hot springs include sulfate ion, sodium, calcium and so on.
Effect
The spring is helpful for chronic skin disease, arterial
sclerosis. It is also helpful for adiposity, diabetes, ventilation by drinking.
Day's bathing
10:00 - 16:00 (Accepted up to 15:00.)
About lodging
Lodging charges
24,690 yen ~
A consumption tax / service charge includes it.
Capacity
9 rooms with an open-air bath
1 room with a Jacuzzi bath
MIYAKOWASURE's Story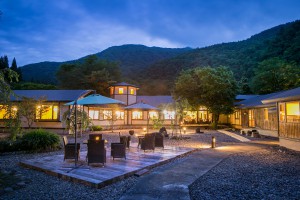 Miyakowasure takes its name from the richly colored purple tea flowers that bloom in the garden located in the center of the ryokan.
This is the perfect place to stay if you're looking for relaxation plus luxury.
With a majority of rooms housing their own private onsen, complete with a view overlooking a still lake, there is no need to leave your private space except to escape for a delicious meal in the dining area.
Read More
Location
Azanatsuse84, Tazawako Sotsuda, Semboku-shi, Akita, Japan