OGAMA
Akita, Nyuto-Onsen
It is the hotel which removed and reconstructed a wooden japanese school building. A good old atmosphere does the building inside. The bath of foot "ASHIYU"is installed in the summer.
MOVIE - AKITA'S ONSEN PARADISE
About a hot spring
| | |
| --- | --- |
| Bathing charges | 600 yen |
| Nature | An acid implication arsenic sodium chloride sulfuric acid saline |
| Effect | Athlete's foot, rheumatic disease et al. |
| Day's bathing | 9:00 - 17:00 |
About lodging
Lodging charges
10,800 yen - 12,960 yen
Consumption tax / bathing tax is included.
Capacity
50 people
Japanese-style room : 15
OGAMA's Story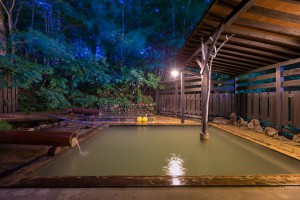 Ogama Onsen, located in the middle of a steep slope on the mountain, features large gama (toad) statues at the entrance of the building, in honor of the hot spring's name.
Previously housing a high school, the long halls and classrooms of Ogama Onsen have been turned into changing areas, dining spaces, and various baths within the ryokan.
Adding to the "old school" feeling is a statue at the front of the ryokan: Ninomiya Kinjiro, a boy reading while transporting wood on his back, is a famous symbol that represents the virtues of study and hard physical labor.
Read More
Location
Tazawako tazawa aza sendatsuzawa kokuyurin, Senboku-City, Akita, Japan.