TSURUNOYU
Akita, Nyuto-Onsen
Tsurunoyu is the oldest place in Nyoto hot spring village and it was a spa of Akita-han. The thatch mansion of the samurai "HONJIN" still exists.
MOVIE - AKITA'S ONSEN PARADISE
About a hot spring
Bathing charges
600 yen
Nature
Includes Sulfur,Sodium,Calcium chloride.Carbonic acid hydrogen spring.Other three kinds.
Effect
High blood pressure, arteriosclerosis, rheumatism, dermatopathia, diabetes et al.
Day's bathing
10:00 - 15:00
As for the visitor of the day's bathing, an outdoor bath cannot take a bath on Monday.
About lodging
Lodging charges
8,790 yen - 16,350 yen
Consumption tax / bathing fee is included.
Capacity
100 people
Japanese-style room : 30
The cooking food for oneself is possible, too.
TSURUNOYU's Story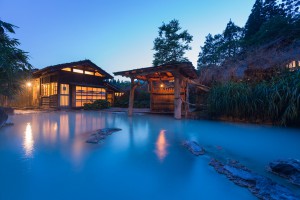 Nyuto Mountain's oldest and most popular onsen, Tsurunoyu was established in the 1600s, during the Edo Period, when it housed many elite government officials and members of royalty on their travels.
The onsen continues to hold its iconic title and offers guests a rustic and authentic stay with an irori, or sunken fireplace, to cook with and to heat up each room.
Tsurunoyu, which translates as "crane onsen," takes its name from the legend of a badly injured crane that soaked itself in the hot spring bath and was healed in its mineral-rich waters.
Read More
Location
Tazawako Sendatsuzawa Kokuyurin 50, Senboku-City, Akita, Japan.